MR. YARDLEY'S PROCESS - Frederick Hockley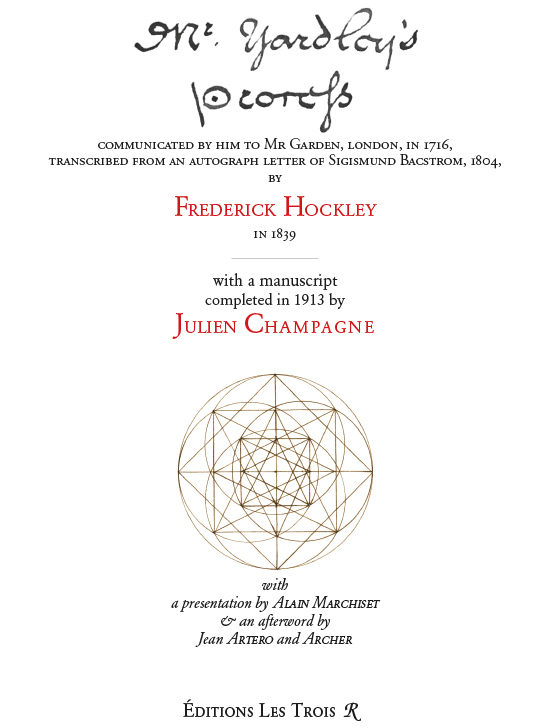 EDITOR'S NOTES
While reading La Vie Minérale, we discovered Julien Champagne as a true servant of hermetical philosophy and appreciated his robust knowledge in the field of esoterica alchemy; so, we won't be surprised to learn that after the writing of La Vie Minérale (1908), he will acquire in 1913 from Dujols a manuscript entitled Mr. Yardley's Process.
Let's not forget that in Demeures Philosophales, Yardley is well located between Naxagoras and Vincent de Paul, all quoted behind the particular Basile Valentin, « sustained by relevant philosophical reasons ».
And while talking about similarity, we will find under the name of Champagne that « even the reticence of the author, which are easily understandable, it seems that he knows the entire process of the Grand Œuvre ».
This manuscript is the copy of Mr. Yardley's Process, written by Frederick Hockley taken from a letter of Bacstrom dated from 1804. This copy in English is displayed recto of each page. Champagne did realize the translation, which is displayed beside Hockley's text: so we got both original text and its French translation.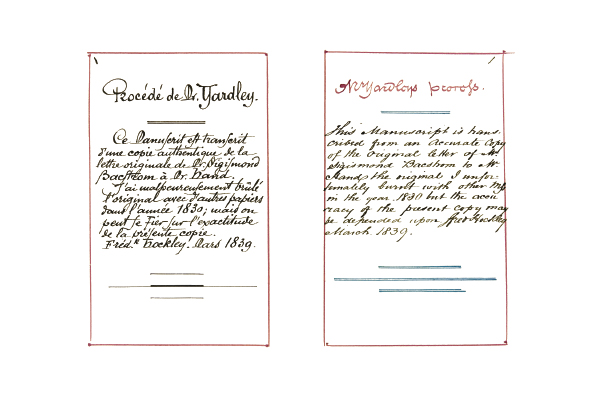 We propose today the most accurate reproduction possible. It comes with a presentation written by Alain Marchiset (1) and an afterword from Jean Artero (2) and Archer (3), who discovered the Mr. Yardley's Process and requested us to publish it.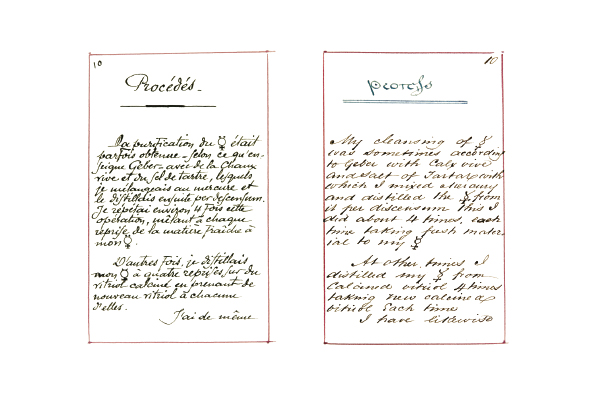 Mr. Yardley's Process board number ten.
Once highlighted the origins & filiation of this manuscript, copyist's figures are also revealed: Frederick Hockley and Doctor Bacstrom who « have been affiliated to hermetical Society founded by l'Adepte de Chazal » as signaled by Fulcanelli. The witnesses of Yardley's authenticity are also mentioned.
From Yardley to Champagne, via Chazal, Bacstrom, Hockley, Dujols: over almost 2 centuries, an Ariane's thread which makes us thinking about it…
The editor
DESCRIPTION
In-8° folio (17cm x 22 cm - 6.8 inches x 8.8 inches), printed in CMYK on Olin Rough creme 150 g. (inside pages) and Curious Skin grège 270 g. (book cover). The book is stitched and sewn (this is not a square back).
This original edition is limited to 500 numbered books.
PRICE
Price for one book : 35 €
Please contact us if you want to order several books, so we can optimize shipping costs.
ORDER FORM
You can use the order form attached hereafter or send an e-mail to editions editions.lestroisr@free.fr and provide us with your address, book title(s) and selected shipping mode (see below).

Click to download the order form
If you want to order several books, please let us know and we will calculate the best shipping fees for you.
Order will be shipped as soon as we receive your paiement.
COMMANDER POUR LA FRANCE
Frais de port :
Colissimo : 6,55 €
Mondial Relay : 4,55 €
cliquez ici pour trouver le point relais le plus proche de chez vous.
Modalités de règlement :
Par chèque :
Fractionnement possible du montant de votre commande en plusieurs chèques, qui seront présentés à raison d'un par mois.
Par virement bancaire :
IBAN des Éditions Les Trois R :
FR76 1027 8371 1600 0111 7140 181
BIC : CMCIFR2A
Par Paypal, envoyez votre règlement à l'adresse :
editions.lestroisr@free.fr
SHIPPING COSTS FOR EUROPEAN UNION AND SWITZERLAND
Economic shipping costs (slower): 1,35 €
International priority mail (faster): 9,50 €
International priority mail + tracking (faster): 12 €
La Poste Colissimo: 11,53 €
SHIPPING COSTS FOR REST OF THE WORLD
Economic shipping costs (slower) for all countries: 2,25 €
International priority mail (faster): 9,50 €
International priority mail + tracking (faster): 12 €
La Poste Colissimo + tracking (faster): 22,08 €
TERMS OF PAYMENT
Postal money order,
Bank transfer from a European Union Bank only using Éditions Les Trois R IBAN:
FR76 1027 8371 1600 0111 7140 181
BIC: CMCIFR2A
Order using Paypal to the following email address: editions.lestroisr@free.fr
For English speaking people who may have questions, you can contact our collaborator, Axel, who speaks English at the following number: +33 6 03 80 46 73.
(Please pay attention: Paris time GMT+1)
Éditions Les Trois R
15, allée Jean-Nicolas Fortin
37400 Amboise France
Tél. : +33 (0)2 47 79 38 02
editions.lestroisr@free.fr
RCS TOURS 399 712 496 — APE 221A
TVA intracommunautaire FR26 399 712 496